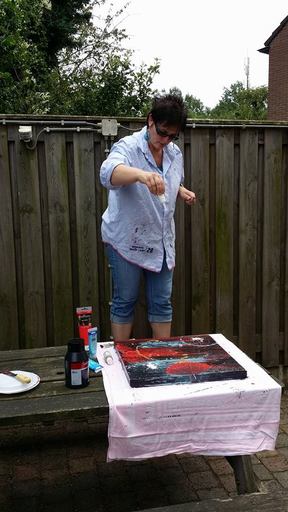 Ik ben Miranda Arling geboren 1968 te Enschede. En ik ben autodidact.
Er is mij eens verteld, zet je gevoel op papier niet met woorden, maar met kleuren. Ik dacht toen dat kan helemaal niet. Ik heb het wel eens geprobeerd met pastel krijten, maar het wou niet echt lukken.
Na vele jaren ben ik in 2010 toch weer begonnen ,maar nu met acrylverf. Ik heb dit jaar (2014) een paar schilderles genomen. Zij leert mij om mezelf te ontdekken en los te gaan in mijn inspiratie. Ik maak gebruik van verschillende materialen zoals: zand, stof,vulmiddel enz.
My name is Miranda Arling born 1968 in Enschede. I'm self-taught.
Someone once told me to put my feelings on paper without words, but with colors. I thought that it was inpossible. I have tried with pastel chalk, but it just would't work.
After many years I started painting again in 2010, but now I used arcylic paint. I haven't had painting lessons, I just put my feelings on paper. When I start painting I look at the colors and see which one 'talks' to me. I also use other materials like, sand, wood, leafs and many more.
I took some painting lessons this year 2014, because I was stuck with painting. She tought me to discover myself and to let my feelings and mind run the painting.